The AMGO PRO-12ASX alignment lift. For your alignment 4-post lift work done on everyday vehicles. This is the lift for you! With double safety locks to ensure you and your vehicle are always safe, you can feel secure with your work.
12,000 lbs lifting capacity.
Air-released safety lock for convenient operation and reliability.
Mechanical self-lock and cable breaking protection.
3/8″ Aircraft quality cable.
Optional adjustable turnplate pockets to fit different wheelbases.
Skid proof diamond platform.
Hydraulic cylinders are designed and made to high quality standards.
Adjustable lifting platform: Off-side platform can be adjusted. The mounting position left or right as required. The standard distance between two platforms is 43 1/4"(1100mm) and maximum distance is 53 3/4"(1365mm).
Strict quality control of cylinders with flow restrictors to keep a constant low speed.
Five-year Warranty on Steel Components, Three-year Warranty on Hydraulic Parts and Two Years on Electrical Components.
Optional Accessories Available
Optional AMGO Rolling Jack: J6A 6,000lbs pneumatic pump, $1889.00
Optional AMGO Alignment Lift Turn Plates 40101, $789.00
Optional AMGO Alignment Lift Adjustable Blocks, 40905, $168.00
Optional AMGO Airline Kit, 4-Post Lifts, 40102, $169.00
More choices:
-Optional led lights: No. 40103
-Optional extension kit: No. 41203

Specifications Include: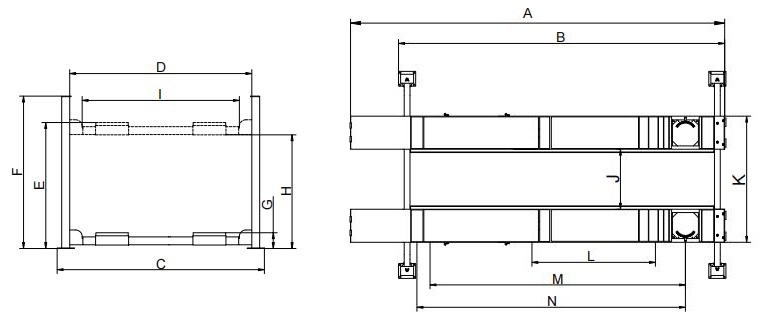 | | |
| --- | --- |
| Model | PRO-12ASX |
| Style | Alignment |
| Lifting Capacity | 12,000 lbs (5,500 kg) |
| Lifting Time | 45S |
| A: Overall Length (Inc.Ramps) | 232 5/8″ (5910mm) |
| B: Overall Length (No.Ramps) | 196 3/4″ (4998mm) |
| C: Overall Width | 132 1/8″ (3356mm) |
| D: Width Between Columns | 118 1/8″ (3000mm) |
| E: Max. Lifting Height | 75 3/8″ (1915mm) |
| F: Overall Height | 86″ (2185mm) |
| G: Minimum Height | 8 5/8″ (220mm) |
| H: Max. Underneath Height | 67 7/8″ (1724mm) |
| I: Drive-Thru Clearance | 104 1/8″ (2646mm) |
| J: Width Between Runways | 43 1/4″ (1100mm), Max. 53 3/4″ (1365mm) |
| K: Outside Edge of Runways | 83 1/4″ (2116mm), Max. 93 3/4″ (2381mm) |
| L: Min. Four Wheel Align | 81 7/8″ (2080mm) |
| M: Max. Four Wheel Align | 151 5/8″ (3850mm) |
| N: Max. Two Wheel Align | 157 1/2″ (4000mm) |
| Gross Weight | 2,798 lbs (1,269 kg) |
| Motor | 2.0HP, 220V/60Hz Single Phase |