The AMGO PRO-14E incorporates many structural and cosmetic features that are found in more expensive lifts in the market. The AMGO PRO-14E 4-post auto lift is tested to ensure that this lift system will perform flawlessly at its rated capacities. AMGO PRO-14E features extra-long runways to accommodate a wide variety of vehicle types and wheelbases.
Finance Your Auto Lift Today. Apply Now.
Free Shipping
Features include
14,000 lbs capacity.
Air-released safety lock for convenient operation and reliability.
Mechanical self-lock and cable-breaking protection.
1/2″ aircraft quality cable.
Skid proof diamond platform.
Hydraulic cylinders are designed and made to high quality standards.
Adjustable lifting platform: Off-side platform can be adjusts the mounting position left or right as required. The standard distance between two platforms is 47"(1194mm) and maximum distance is 54 1/2"(1385mm).
Strict quality control of cylinders with flow restrictor for a stable and smooth operational speed.
Five-year Warranty on Steel Components, Three-year Warranty on Hydraulic Parts and Two Years on Electrical Components.

Optional Accessories Available
40102 Airline Kit for 4 Post Lifts less than 18K
40103 LED Light Kit for 4 Post Lifts
Specification Include: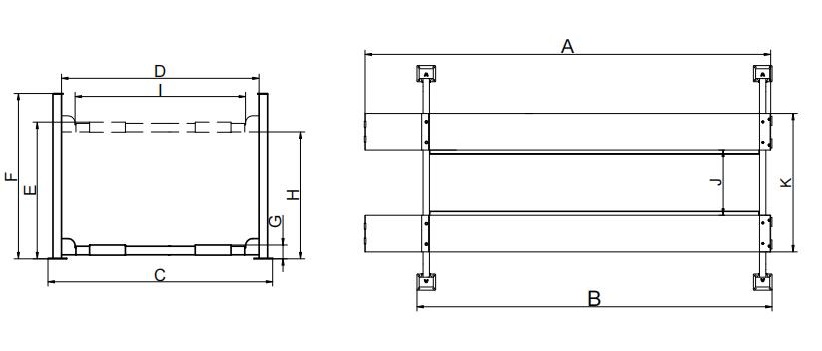 | | |
| --- | --- |
| Model | PRO-14E |
| Style | Non-Alignment |
| Lifting Capacity | 14,000 lbs (6,500 kg) |
| Lifting Time | 76S |
| A: Overall Length (Inc.Ramps) | 286″ (7265mm) |
| B: Overall Length (No.Ramps) | 245″ (6224mm) |
| C: Overall Width | 130 7/8″ (3324mm) |
| D: Width Between Columns | 116″ (2946mm) |
| E: Max. Lifting Height | 73 1/2″ (1865mm) |
| F: Overall Height | 86″ (2185mm) |
| G: Minimum Height | 7 7/8″ (200mm) |
| H: Max.Underneath Height | 66 3/4″ (1695mm) |
| I: Drive-Thru Clearance | 102 1/8″ (2592mm) |
| J: Width Between Runways | 47″ (1194mm), Max. 54 1/2″ (1385mm) |
| K: Outside Edge of Runways | 87″ (2210mm), Max. 94 1/2″ (2401mm) |
| Gross Weight | 2,945lbs (1,336kg) |
| Motor | 2.0HP, 220V/60Hz Single Phase |