The AMGO DX-12A Double Scissors Lift is the ideal lift for easily and conveniently lifting all wheels off the runway for brake, tire, suspension and two or four-wheel alignment work. The DX-12A is made stronger, more versatile, and easier to use and can lift 12,000lbs.
Finance Your Auto Lift Today. Apply Now.
Features include
12,000lbs capacity for main scissor lift and 9,000lbs capacity for secondary scissor lift
Synchronization cylinders system equipped with hose burst valves
Safety stop device at the height of 11 3/4″, both control buttons are needed to lower the lift from 11 3/4″ to ground, with tone alarm for added safety
Skid proof diamond runways and optional adjustable turnplate pockets
Self-lubricating UHMW polyethylene sliders and bronze bushings
Optional PX004 Airline Kit for scissor lifts $139.00
Specifications include.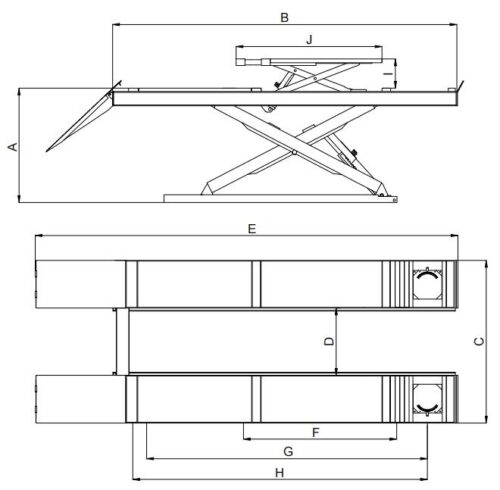 | | |
| --- | --- |
| Model | DX-12A |
| Main Scissor Lifting Capacity | 12,000 lbs (5,500 kg) |
| Lifting Time | 63S |
| A1: Max. Lifting Height | 73 5/8″ (1870mm) |
| A2: Minimum Height | 12 5/8″ (320mm) |
| B: Runway Length | 196 1/2″ (4991mm) |
| C: Overall Width | 86 1/4″ (2190mm) |
| D: Width Between Runways | 37″ (940mm) |
| E: Overall Length(Inc.Ramps) | 257″ (6527mm) |
| F: Min.Four Wheel Align | 85 7/8″ (2180mm) |
| G: Max.Four Wheel Align | 166 1/2″ (4230mm) |
| H: Max.Two Wheel Align | 172 7/8″ (4390mm) |
| Secondary Scissor Lifting Capacity | 9,000lbs (4000kg) |
| I: Secondary Scissor Lifting Height | 16 1/2″ (420mm) |
| J: Secondary Scissor Length | 63″~74″ (1600~1880mm) |
| Gross Weight | 5,706 lbs (2,588 kg) |
| Motor | 2.0HP 220V/60Hz Single Phase |